New Home Snagging Service Prices
No Deposit Required, No Mileage Charges, No Hidden Costs
Range of Payment Options
Sample Reports Available
Reports Can Be Customised To Suit Your Requirements
Express Service Available
2 Years' Aftercare
Experienced Office Staff Call Us on 0845 22 66 486 To Speak To A Member of The Team
House Prices
2 BEDROOM
HOUSE

Includes 2 years aftercare
3 BEDROOM
HOUSE

Includes 2 years aftercare
4 BEDROOM
HOUSE
Includes 2 years aftercare
5 BEDROOM
HOUSE
Includes 2 years aftercare
6 BEDROOM
HOUSE
Includes 2 years aftercare
6+ BEDROOM
HOUSE
Includes 2 years aftercare
For New Homes Above 2500 Sq ft
Call For A Fixed Price
Apartment Prices
1 BEDROOM
STUDIO
Includes 2 years aftercare
1 BEDROOM
APARTMENT
Includes 2 years aftercare
2 BEDROOM
APARTMENT
Includes 2 years aftercare
3 BEDROOM
APARTMENT
Includes 2 years aftercare
Re-inspection Costs
Click here to see what is included
APARTMENT
For an apartment of any size
HOUSE
For a house up to 5 bedrooms and below 2500 sq feet
Additional Services
All additional services must be booked in advance and prices include VAT.
Measuring Service
Measuring service £35 (normally for london apts where prices are per sq ft)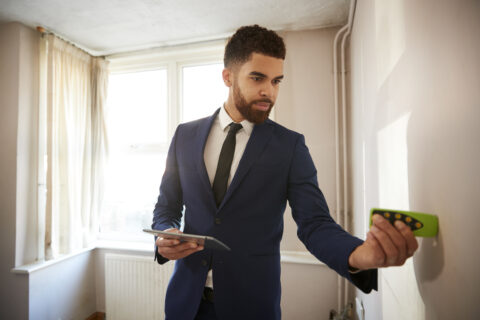 Thermal Imaging
A lite thermal inspection is include in the standard snagging service. This upgrade is for a full thermal imaging service conducted by qualified thermographer starts from £400 (contact us for details).
Video Service
Video service £45 (for investors or those living overseas).
Structural Survey
Structural survey POA sometimes needed when snagging inspection finds/suspects structural issues.
Quantity Survey
Quantity survey, POA, putting a price/cost to defective works.
Small Works Inspection
Small works inspections, from £200 such as small extensions, kitchens.
Refurbished Property
Refurbished properties £ call with details prices depended on sq footage and inspectors time/location.
Laser Level Checks
We will use the latest laser level technology to check that the levels are to the agreed standards. POA.
Drone Roof Inspection
Inspection of roof areas with drone, undertaken by CAA qualified and licenced and insured pilot (standard inspections undertaken at ground level using binoculars).
Acoustic Survey
We will use a sound meter to carry out an acoustic survey. POA.
Damp Tests
We will assess the level of dampness using the latest damp meter technology. POA.
Payments
You can pay by PayPal, debit or credit cards or if you prefer by bank transfer.
** We do not accept American Express **
Prices effective January 2019.
*Vat is applicable where charged.
Discounts
Discounts are available for investors with multiple units on same development and able to be undertaken on same day
Referral Scheme
A referral scheme is in operation for those who recommend us to neighbours.
X
Re-inspections are available to those clients that want them.

They are popular at the end of warranty period and with those who live abroad and cannot get to check if all the works have been done by the builder.

Popular with busy people, the young and old alike, and those not confident in making assessments.

We write the original reports in such a way as to make them easy to read so that clients can do this important function themselves, but for whatever reason, YES, we can and do provide a follow up re-inspection service to check works have been completed and that no new works are required since our last visit.